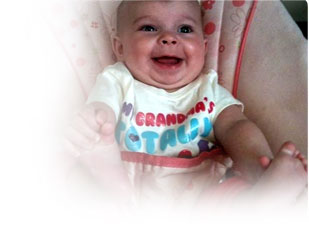 Meet Our Team
Octavia Cordon, Program Director, RAU IV

Octavia Cordon is the Director for the WV Birth to Three RAU IV program at the Huntington, WV location. She comes to River Valley Child Development Services with a wealth of knowledge and background in Early Childhood Education. She is married with 4 children - 1 son and 3 beautiful girls. She has received an ED. S degree, MA degree, BA degree and an AAS degree. Octavia enjoys working with families and believes educating children is a calling of hers. When she is not working, she enjoys traveling, listening to music, going to concerts and watching Law & Order.
Elizabeth Smith, Parent Partner RAU IV
My name is Elizabeth Smith and I am the Parent Partner for RAU IV. Both of my children have been in the WV BTT program. My oldest child had a chromosome abnormality. She was medically complex with a trach, vent, feeding tube, and a list of diagnosis. She passed away at 4 years old in 2017. My son, who will soon age out of the program, has a speech delay and other mild developmental delays. He also experiences challenges associated with Sensory Processing Disorder.
Our journey through the medically complex community and special needs community are what make me so passionate about my position as Parent Partner. It is my hope that I can use my personal experiences to help the families in our program. My main goal is to help people cope, find resources, and link them with families facing similar struggles.
Lora Fischer, Data Specialist
Lora Fischer, born in Wayne County, West Virginia, is a business graduate from Marshall University with a specific focus on accounting and data trends. She is the Data Specialist with WV Birth to Three Program at River Valley's Regional Administrative Unit IV. She coordinates data between staff and practioners to provide the best possible service for families in our local area.
Valerie Gue, Administrative Secretary
Valerie Gue is the Administrative Secretary for the WV BTT Region IV office. She has worked for River Valley Child Development Services for 11 years. Valerie has served on the Agency Safety Committee from 2015- 2018 and the In-Service Committee since 2015. She was a part of the first Emerging Leaders in 2011. In 2016, she won the Big Fish award at the agency's annual In-Service. Valerie is the mother of three boys and she has three granddaughters. She is attending Mountwest Community and Technical College working on her AAS degree.
April Abraham, Interim Service Coordinator
Hello, my name is April Abraham. I was born on a dark and stormy night during the great flood. I have been with River Valley Child Development Services as an interim service coordinator with the West Virginia Birth to Three program since 2006. I received my Bachelor's in Child Development from Berea College in the year of 1776; well if feels that long ago anyway. I enjoy my job because it always has a little adventure, a little spice, and sometimes a little excitement. I also enjoy venturesome acts.
Jamie Reed, Interim Service Coordinator
Hello, my name is Jamie Reed and I am an Interim Service Coordinator with WV BTT. I have received two AAS degrees, 1 BA degree and have begun working on my graduate degree. I am a mother of one and have worked for River Valley as a Lead Teacher at Enterprise Chld Development Center. Working with children and their families is a calling and passion of mine. I have worked in many different areas of this field and I truly feel blessed to have the opportunity to help make a difference in their lives.
Kimberly Handley, Interim Service Coordinator
Hi, my name is Kimberly Handley. I began my journey with RVCDS in September 2013 when I filled the position of Data Entry Specialist for WVBTT Regions 3 and 4. After a year in this position, I became an Interim Service Coordinator for Region 4. Since the switch, I have learned so much more about child development, the services WVBTT provides and the resources available in our community. I am excited to be a part of such a wonderful program and I hope I get to share a part of your journey as you learn more about West Virginia Birth to Three and the services offered to your family.
Tandy Dixon, Interim Service Coordinator
My name is Tandy Dixon. I have worked for RVCDS for nearly 29 years and have been part of the BTT program for just as long. I have 2 MA degrees. I have been married for almost 4 years and have 2 little busy boys. As a family we stay busy with sports and just everyday life. Cooking, laundry and gardening are therapy for me. I love to entertain. I have a sense of humor and love to laugh and hear laughter. THe world could use a lot more of that sound. :)
Jamie Mann, Interim Service Coordinator
Jamie has worked for RVCDS for 13 years in the BTT program. She enjoys her job and loves helping children and families. Jamie would love to travle some day and enjoys eating cake. One interesting fact about Jamie is that she has never had a peanut butter and jelly sandwich. We are happy to have Jamie working in our program.