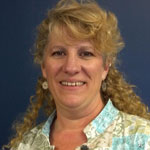 Kerri Wade, MSW has been an Extension Instructor and Agent in Kanawha County with West Virginia University Extension Service since April 2001. She received her Masters in Social Work from the University of West Virginia and her Bachelor of Arts in Communications from the University of South Carolina. She is a West Virginia licensed graduate social worker. Throughout her career she has worked extensively with youth and families in West Virginia. She has been involved in conducting after school programs, exposing high school youth to higher education, educating early childhood providers and educating community members about making healthy lifestyle choices.
Bob Angel is a Professor of Special Education at Marshall University. He coordinates the undergraduate and graduate Preschool Special Needs Programs. He has taught with Project Head Start, in child care, and in hospitals in New York City. Dr. Angel has worked with RVCDS for over 20 years.
Mindy Backus has been an educator since 1989, beginning as an elementary school teacher, then moving to middle school, and finally to present-day professor at Marshall University. She holds a doctorate in Curriculum and Instruction with a minor in Literacy. While teaching is her passion, her family is her life. She has two beautiful daughters and a wonderful husband. In 2012, she added another passion: she and three friends started Jeannie's Wish, Inc--a nonprofit organization in memory of a friend and in support of brain aneurysm awareness. If she's not with family, teaching, or working with Jeannie's Wish, Inc, then you can find her outside "playing" any sport or activity. She loves being outside, and is passionate about animals.
My name is Sherrone Hornbuckle. I am very excited to be welcomed to the River Valley Child Development Services Board. I received my B.A. from the University of Richmond in Richmond, Virginia in Leadership Studies with minors in Criminal Justice and Law and the Liberal Arts. I received my Juris Doctor at Northern Kentucky University: Chase College of Law in Highland Heights, Kentucky.

Since graduating from law school, I worked with a local Social Security Attorney, William L. Redd. I now practice at Legal Aid of West Virginia, dedicating my time to domestic violence victims and veterans work.

I have a four and a half year old son, Jolon. He is the love of my life and the sole decoration scheme in my office. He just started Pre-K at Enterprise Child Development Center and is thrilled to begin his educational foundation. Thank you for welcoming me to the family!
Cathy is a life-long resident of the Proctorville, Ohio, area – since 4th grade! She graduated from Marshall University with majors in Secondary Education Math and Art, but, after teaching only a few years, was drawn into other vocations. Through her work life, she has been employed in a variety of fields: teacher, corporate treasurer, advertising sales representative, church administrator, trust administration manager, career specialist, recruitment/employment coordinator, bookkeeper/account analyst and office manager. For over 8 years now, she has been the Business Manager for the College of Health Professions at Marshall University – the largest college with 11 departments ranging including Health Informatics, Social Work, Nursing and Public Health. When not working, Cathy can be found at the Y, singing with River Magic Chorus, ushering at the MU Artist Series, working in her yard, and enjoying friends at dinner, lunch, movies, and on short trips. With a daughter and 2 grandchildren, she understands how precious children are in our lives and community and the importance of providing opportunities for them to reach their full potential. She hopes to make small contribution to RVCDS as a Board Member.
As Director of Development for statewide education initiatives Pamela has been a force in local and statewide resource development planning for more than 14 years. She has overseen and negotiated many of the transformative projects shaping the future of challenged youth and families in WV. She fosters and inspires a culture of strategic thinking and visionary implementation, and has worked on groundbreaking projects recently as the Co-Founder of The Appalachian Education and Leadership Foundation. While there, she established long-term funding for scholarships and leadership program development at eight colleges and universities across the state. The efforts were recognized nationally as the recipient of the prestigious award shared by College Summit as one of ten awards from President Obama's Nobel Prize monies. She also served as Director of Development for The West Virginia Education Alliance and Regional Development Consultant for Junior Achievement. While working on lucrative resource development efforts; Pamela has secured statewide donors, overseen and negotiated many of the transformative projects that have shaped a positive outlook for young West Virginians. She fosters and inspires a culture of strategic thinking and implementation with corporate foundations for support of programs. Her focus in development efforts continues to shape partnerships compassionate of college impact coupled with those who have the greatest need.Education Degrees: Bachelor of Arts Degree Education at Marshall University, Master of Arts Degree Marshall University Education Marshall University Education Administration Marshall University Doctoral Work Ohio State University
Mindy Thornton is the Children's Department Program Director for Prestera Center for Mental Health Services, which is the largest comprehensive behavioral health center in West Virginia. Mrs. Thornton holds state certification in clinical addictions counseling and a Masters degree in Clinical Psychology from Marshall University. She has been working to help children and families of Prestera Center for the past 14 years. She serves as the Children's Mental Health Outreach Liaison for Prestera Center in which she is active in community outreach and education of mental health and substance abuse issues in Prestera's service area. She has worked diligently with the Bureau of Children and Families to advocate that the children and families of West Virginia have a wide variety of services and supports available to them. Mrs. Thornton is active in many Community Collaboratives and partners with Prevention Coalitions to educate the community and families about the rising substance abuse problem in the state of West Virginia and to assist families in the prevention of substance abuse, especially prescription drug abuse, in children.