News Stories
River Valley Child Development Services founder dies
http://www.herald-dispatch.com
April 23, 2019
---
Local child care employees take part in active shooter training
http://www.wowktv.com
January 26, 2019
---
Local book drive collects books for Giving Library
http://www.herald-dispatch.com
December 15, 2018
---
MU students raise funds with Second Chance Prom
http://www.herald-dispatch.com
April 14, 2018
---
MU students work with Black Sheep to support local kids
http://www.herald-dispatch.com
March 21, 2018
---
Born into rehab
https://www.youtube.com/watch?v=u0MLPNyi-Wk
---
Site prepared for family-focused child care in Huntington's West End
http://www.herald-dispatch.com
August 19, 2017
---
Program studied to expand services for babies born addicted
http://www.herald-dispatch.com
April 18, 2017
---
Photos: Murder mystery fundraiser
http://www.herald-dispatch.com
April 9, 2017
---
Trail run features new obstacle course
http://www.herald-dispatch.com
March 13, 2017
---
Center being considered for babies born addicted to drugs
http://www.herald-dispatch.com
By Taylor Stuck
March 1, 2017
Click Here to View Story
---
Dozens of area children ages 5-12 are participating in the School Age Connections Camp
http://www.herald-dispatch.com
Jun 25, 2016
Click Here to View Story
---
River Valley holds baby shower for Lily's Place
http://www.herald-dispatch.com
By LACIE PIERSON
Jun 23, 2016
Click Here to View Story
---
Read all about it - Little Free Library in West End
http://www.herald-dispatch.com
June 18, 2016
Click Here to View Story
---
Chaney Foundation awards grant to River Valley Child Development Services
http://www.herald-dispatch.com
May 26, 2016
Click Here to View Story
---
School Age Connections collecting for Dress for Success River Cities
http://www.herald-dispatch.com
May 15, 2016
Click Here to View Story
---
Children can't learn necessary skills from participation trophies, no-lose games
http://www.herald-dispatch.com
Suzi Brodof
Published: March 1, 2016
Click Here to View Story
---
Two honored by women's group
Anthony Davis / The Herald-Dispatch
Published: March 6, 2016
Click Here to View Story
---
Anniversary Events
A special delivery to children
http://www.herald-dispatch.com
Published: Feb 20, 2016
Click Here to View Story
---
Teaching responsibility for consequences critical
http://www.herald-dispatch.com
Suzi Brodof
Published: Jan 24, 2016
Click Here to View Story
---
Link, River Valley collecting items for Children's Home Society
http://www.herald-dispatch.com
Published: Jan 17, 2016
Click Here to View Story
---
To reduce holiday stress, let some things go
http://www.herald-dispatch.com
Suzi Brodof
Published: Dec 12, 2015
Click Here to View Story
---
River Valley collecting widow socks for charity
HuntingtonNews.net
Published: Friday, December 11, 2015
Click Here to View Story
---
River Valley Child Development art auction
The Parthenon
Published: November 9, 2015
by John Cole Glover,
Click Here to View Story
---
Trivia Night raises funds for RVCDS
The Parthenon
Published: April 12, 2015
by Mikaela Keener,
Click Here to View Story
---
Gallery: Trivia Night at Marshall University
The Herald-Dispatch
Published: Apr. 11, 2015 @ 09:46 PM
by Lexi Browning
Click Here to View Photo Gallery
---
Student group to host 'Questions Trivia Night' April 11
http://www.marshall.edu
Released: Monday, March 23, 2015
Click Here to View Press Release
---
Kids art raises funds for center
The Herald Dispatch
Published: Nov. 08, 2014 @ 12:47 AM
Click Here to View Story
---
Early Childhood Education Providers in West Virginia to Receive Online Resource Platform Developed by CCA For Social Good
HuntingtonNews.net
Published: August 20, 2014
Click Here to View Story
---
Link and TRAILS help with gardening project – Summer 2014
By Kyle Lovern
The Williamson Daily News
Published: July 15, 2014
Click Here to View Story
---
TIPS fundraiser 2014
By KRISTA SHIFFLETT
The Parthenon
Published: Sunday, April 20, 2014
Click Here to View Story
---
Night of Trivia benefits local child care service
By JESSICA STARKEY
The Parthenon
Published: Monday, April 7, 2014
Click Here to View Story
---
Child care nonprofit moves into Schoenbaum Center (Connect Child Care Resource and Referral)
http://www.wvgazette.com/News/201401020090
---
Students bowl with frozen turkeys to benefit children's program
Posted: Nov 20, 2013 on www.wowktv.com

HUNTINGTON, WV -

Students at Marshall University were throwing strikes and splits Wednesday afternoon on Buskirk Field with turkeys.

All the fun and games are for a good cause. The money raised goes towards River Valley Child Development Services. Students we spoke to said this is a good way for students to contribute to the community while relieving stress.

One student involved with the event, Zachary Morris, says River Valley needs the support.

"River Valley provides scholarships for low income families to send their children to River Valley Child Development Services which is a curriculum based program for early childhood development. So, it's very important to raise money and awareness for them so that people can know about the services that they provide for the Huntington community," Morris said.

The Marshall University Public Relations Club hosted the event
---
Art auction raises funds for child center
Appreared in the Nov. 02, 2013 Herald Dispatch

HUNTINGTON -- River Valley Child Development Services hosted its 6th Annual Children's Art Auction Friday at the Joan C. Edwards Performing Arts Center at Marshall University.

The silent auction featured professionally-framed artwork from children who attend Enterprise Child Development Center as well as items autographed by famous musicians Bob Dylan, Bruce Springsteen, Jimmy Buffett, Kenny Chesney and Paul McCartney, among others.

All proceeds from the auction go toward Enterprise and have been used in the past to purchase things such as online curriculum and security cameras.

Enterprise Child Development Center, located at 2021 5th Ave. West, Huntington, has been serving children age six weeks old through pre-kindergarten since 1997.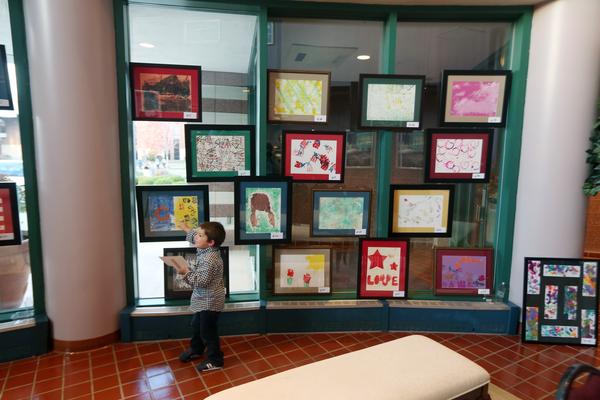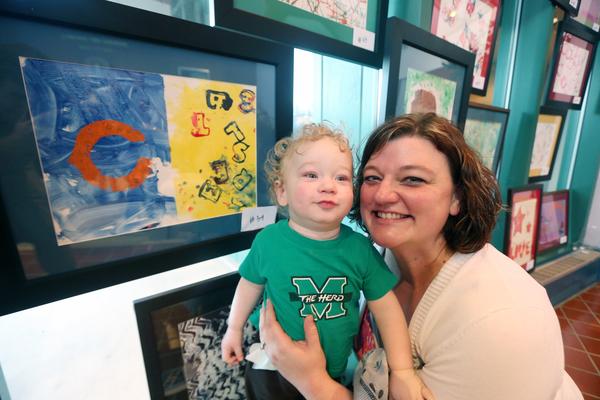 ---
Former learning center finds new way to serve families
Appreared in the Oct. 19, 2013 Herald Dispatch
by LACIE PIERSON

HUNTINGTON — Suzi Brodof thought she said her final "goodbye" to the former Norma Gray Early Learning Center in 2011, but she was glad to be hostess at an open house event celebrating what she called the building's "repurposing."

The building at 432 2nd St. in Huntington that once housed the early learning center now is the office headquarters for West Virginia Birth to Three, Region 4 Administrative Unit, and the School Age Connections, said Brodof, the executive director of River Valley Child Development Services that manages the School Age Connections program.

Brodof said she was glad the building still would be used to serve the needs of children and families in the area.

"This is very exciting for me today because I was the original director when we first built this building in 1994," she said. "It was built to be for children, but after we closed the building we were trying to decide what would be the best use for it. The more we thought about it, we thought, 'Why not bring our other offices here that serve children and families also?'"

Continuing their mission, Brodof and staff collectively repurposed the building to house not only their offices, but all of their files and even all of the storage items they keep for the School Age Connections program.

Brodof said they were in talks with several community organizations that were interested in purchasing the building, but she said each sale seemed to fall through.

"For different reasons, financial reasons, those never came to be. I'm a firm believer that everything happens for a reason, so this must have been meant to be to start with."

School Age Connections provides a safe learning environment for children between 5 and 12 years old in the form of day care and afterschool programs.

The Birth to Three program is for children younger than 3 years old who have a delay in their development or are at risk for developmental delays due to a disability, said Barbara Tucker, director of the Birth to Three office.

Families, regardless of income, can contact the office to participate in an evaluation of their child's needs, and the staff at Birth to Three will help them find a team of "coaches," which can include speech and physical therapists and other medical professionals to help them through their journey.

"The main thing about West Virginia Birth to Three is that it is a resource and support for families," said Tucker. "It is helping families with strategies, finding the things they can do to help their children day to day. We are not here to give them physical therapy or speech therapy. The therapy happens between visits. What the family does with the child between visits is what makes the difference. Families choose who they want to have on their team. We just help them find resources."

The Birth to Three Region 4 office serves Cabell, Wayne, Mason, Putnam, Lincoln, Logan, Boone and Mingo counties. All a family has to do to receive a referral is call the office at 304-523-5444 or email danderson@rbces.org.

View original article with photos.
---
Employees Making the News
Appeared in The Herald-Dispatch
Mullins, Wilcoxon honored at early childhood conference

River Valley Child Development Services has announced that two of its employees were recognized at the recent annual Huntington Area Early Childhood Conference. In its 32nd year, the event began as a conference for River Valley Child Development Services employees, but now attracts early childhood professionals from around the state.

Candice Mullins, director of Enterprise Child Development Center, a nationally accredited center from National Association for Education of Young Children, was awarded the West Virginia Outstanding Early Childhood Profressional award for administrators. Mullins has been the director of Enterprise for almost five years. She has a master's degree and bachelor's degree from Marshall University. Mullins' nomination was overwhelmingly supported by parents with children at Enterprise, the honor is well deserved, said Suzi Brodof, River Valley's executive director.
Jessica Wilcoxon, group leader or School Age Connections at Cox Landing Elementary School and Barnett Center, was awarded the West Virginia Outstanding Early Childhood Professional award for journeypersons, a graduate of the nationally recognized Apprenticeship for Child Development Specialist (ACDS). Wilcoxon has worked in the School Age Connection for more than three years. She is currently pursuing her bachelor's degree in elementary education at Marshall University.
---
Community Helps Raise Money for Scholarships
Appeared in the May 05, 2013 The Herald-Dispatch

River Valley Child Development Services is so lucky to have so many members of the community help us raise money for our TIPS scholarships, which help families pay expenses so their children can continue at Enterprise Child Development Center.

With the help of the PR class at Marshall University, RVCDS held its third annual Trivia Night. This event would not have been possible without our sponsors: Big Sandy Superstore Arena, Aaron's Products, Pancake Realty Co., Kindred Communications, Tri-State Medical Center, Marshall HELP Program, Marshall Orthopaedics, The Herald-Dispatch, Eves law firm and WMUL.

The Marshall students also set up several small fundraisers, which helped pay expenses for Trivia Night. They were held at Bob Evans, Chili's, Backyard Pizza and Paula Vega Cupcakes.

Our emcee, Tim Irr, made the evening fun and the friendly rivalry among the attendees from businesses, parents, fraternities and sororities as well as Marshall professors was great to see.

Thanks to all of you who helped in some way to make this annual event possible. Thanks especially to the wonderful group of Marshall students and their professor, Dr. Terry Hapney, who really understood the importance of helping our youngest citizens get off to a good start.

Suzi Brodof
Executive director
River Valley Child Development Center
Huntington
---
Greater Kanawha Valley Foundation announces grants for arts, education
The Charleston Gazette

View Article
---
13th Annual Super Kids, Super Families, Super Saturday
The Herald-Dispatch

View Article/Gallery
---
River Valley Child Development Services art auction
The Herald-Dispatch

View Article/Gallery
---
Children's art auction set for Nov. 2
The Herald-Dispatch

View Article
---
St. Jude Trike-A-Thon
2012/The Herald-Dispatch

Children participate in the St. Jude Trike-A-Thon on Friday, June 22, 2012, at Enterprise Child Development Center in Huntington.

View Article
---
River Valley program is celebrating 20th year


The Herald-Dispatch

HUNTINGTON -- Link Child Care Resource and Referral, a program of River Valley Child Development Services, is celebrating its 20th year of providing early childhood services to families in Boone, Cabell, Lincoln, Mason, Mingo, Putnam and Wayne counties. A celebration is scheduled from 10 a.m. to 2 p.m. Friday, May 25, at the main office at 611 7th Ave., Huntington. The event will include children's activities, including a tricycle obstacle course, toddler play area, books and other prizes for children. Light refreshments will be served. There will also be a special appearance from the Cat in the Hat, provided through a partnership with West Virginia Public Broadcasting. Child Care Resource and Referral agencies are community service organizations that work with parents, child care providers, businesses and community organizations to help promote the availability of quality child care services in the area. They provide parents with child care referrals and information on evaluating quality child care, plus resources on various parenting issues. They offer child care providers access to valuable training and support services for new or established programs. For more information, call Link Child Care Resource and Referral at 304-523-9540 or 1-800-894-9450.

http://www.herald-dispatch.com